I haven't been able to catch up with my blogging yet, but it will happen! I was extremely busy last fall, much more busy than I could have anticipated, and was only able to keep up with meeting the deadlines I'd set for delivering photos to people. That, coupled with being in my third trimester of pregnancy, left little time for blogging.
With all that said, there will be a lot of posts coming to show the work that I did in the fall, but for now I would like to take this moment to celebrate the baby girl that is currently "past due" to be born. My mother dubbed her "Baby Sunshine" early in my pregnancy, when we found out that she was a girl, and the nickname has stuck. Her name will be announced after she is born. Andy and I have been working hard to make her nursery the way that we would like it … and it has been so much fun for me. I'd like to share some photos I took yesterday and some notes about my favorite things in the room.
The first five photos are just shots of the entire room in a circle. It's a tiny little square room, but it should be just fine for her. It gets a ton of natural light, so we lined the curtains with another layer of black curtains for nap and bed times. The curtains are from Target.
We decided to paint the room a very light grey color with white trim, and Andy did all of that hard work since we put it off until late fall and I was getting very big. (I love you, Andy!) I was originally thinking of painting her walls a lavender color, but opted for grey since it opens up so many colorful possibilities.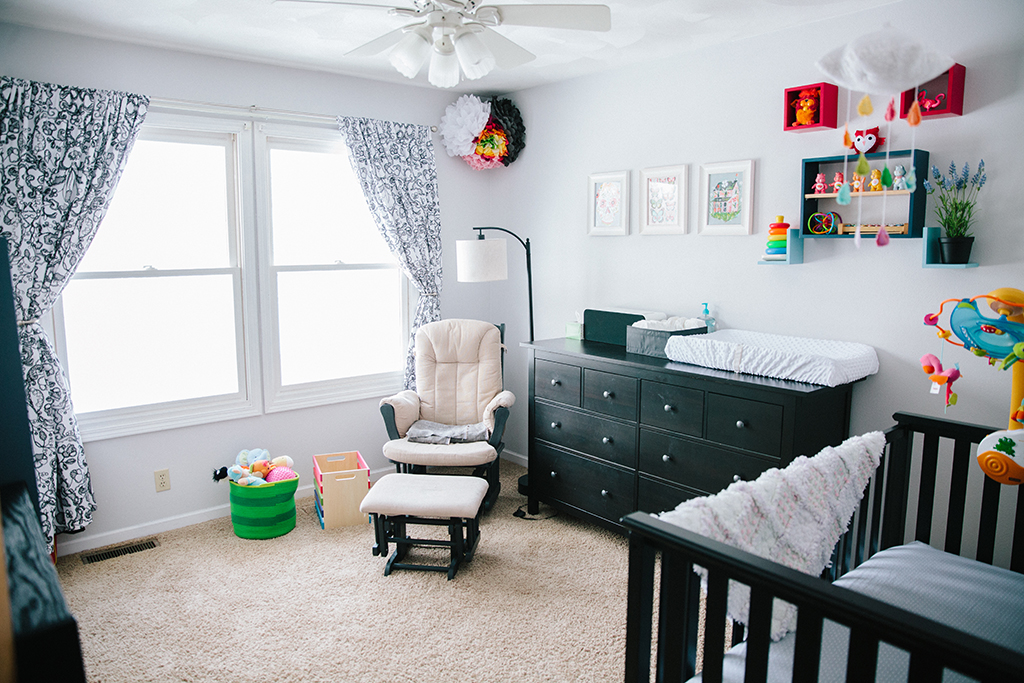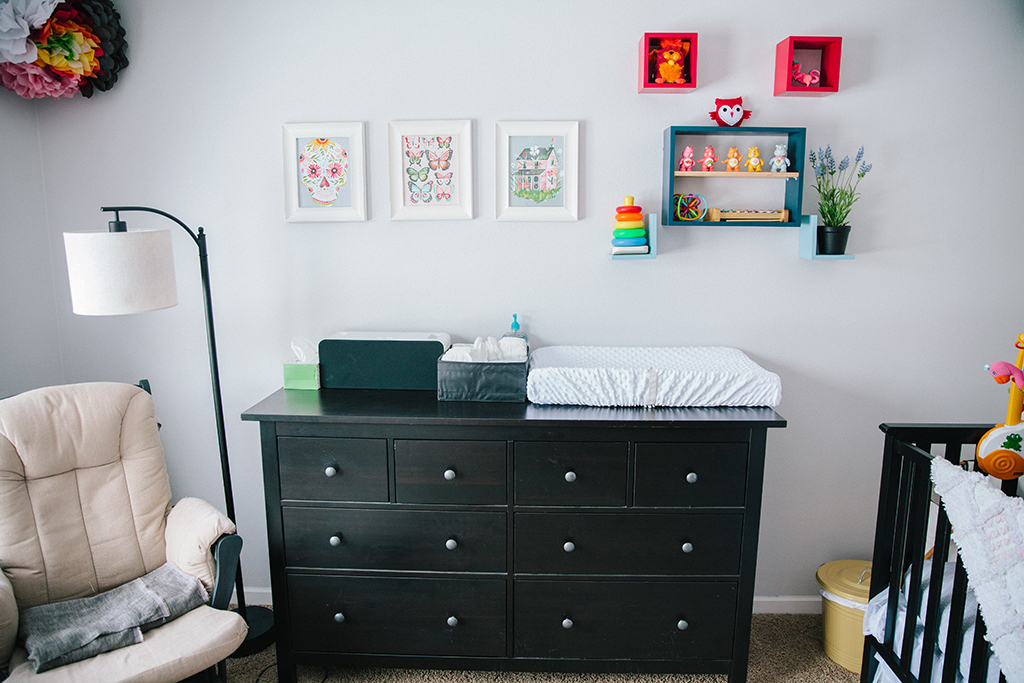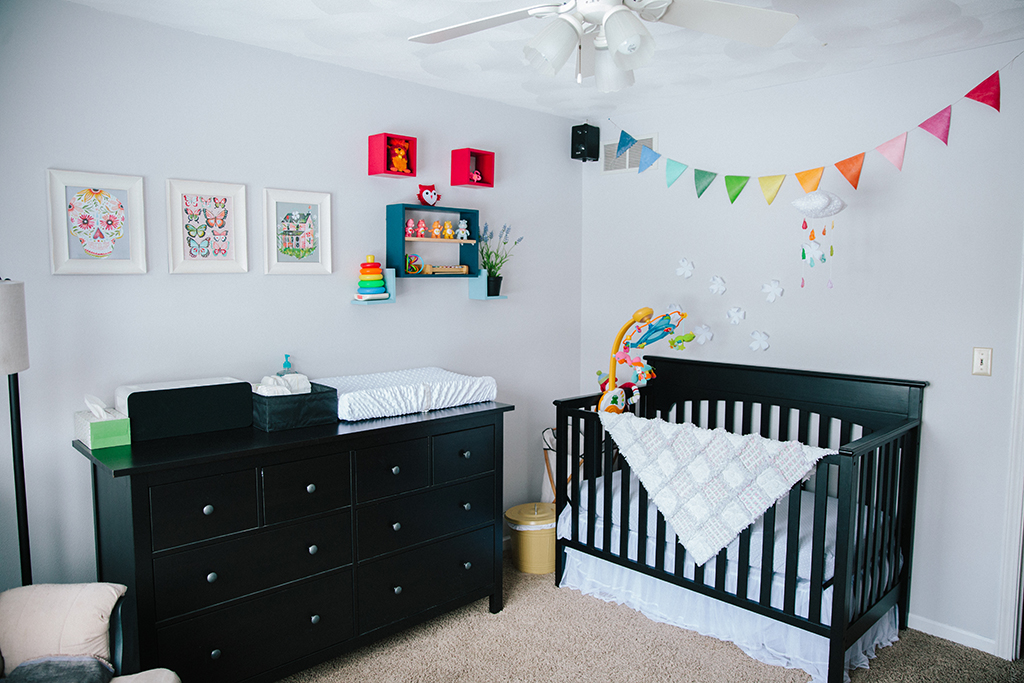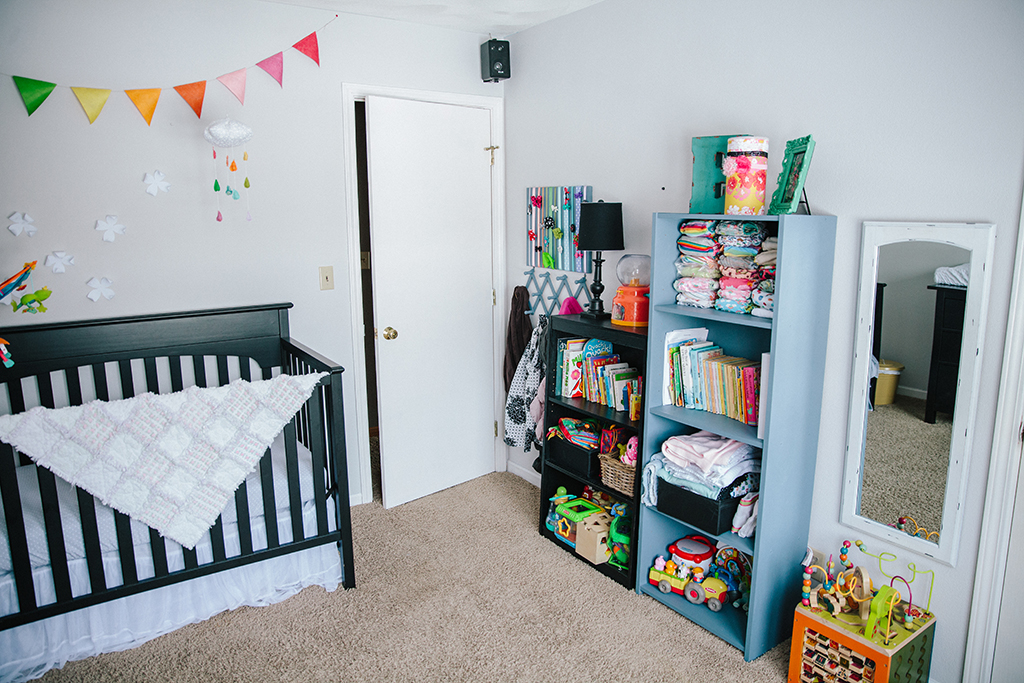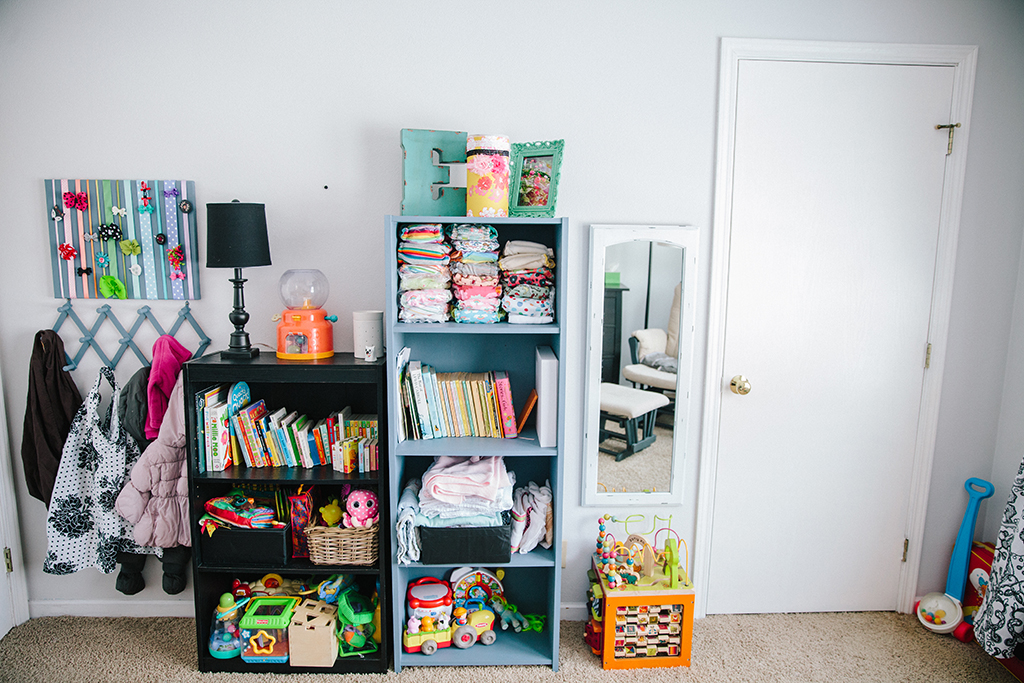 The photo below is the ribbon board that I made to store her hair clips. I used a blank canvas that we had around the house, and we painted it with Annie Sloan "Old Violet" chalk paint to match the bookcase and coat hooks that we'd also painted the same color. The orange and green ribbons are from our wedding programs that we made. The pink, blue and purple ribbons are from a diaper cake that I made for my friend Chelsea's twins. The ribbon board tutorial that I used is here.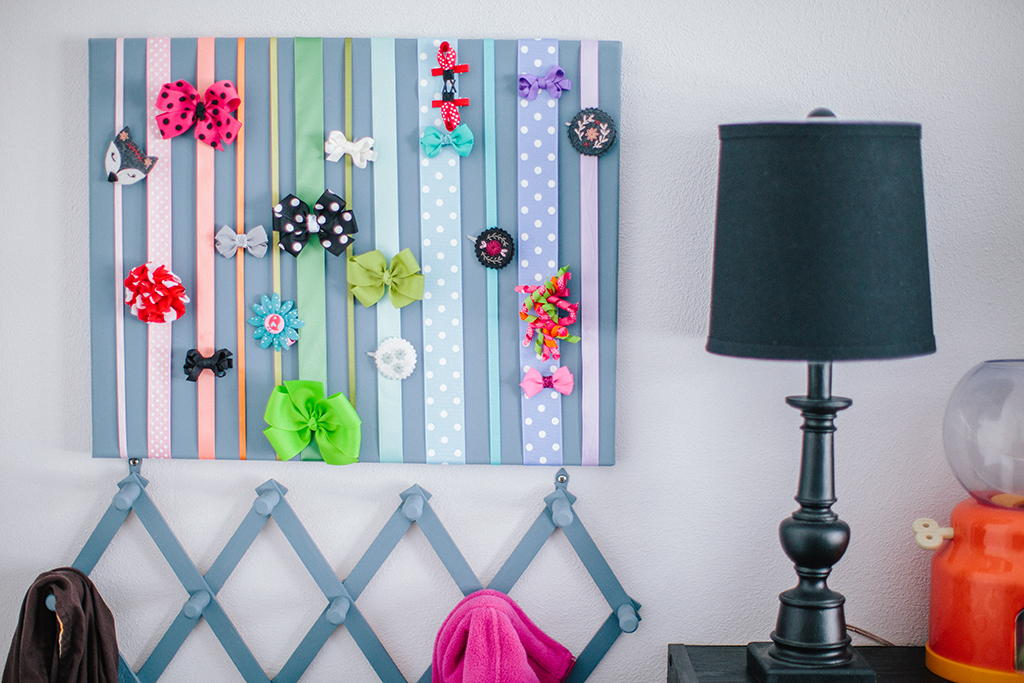 The fox hair clip below and the other beautiful embroidered hair clips (not pictured here) were made by my super talented cousin Sandie. She makes amazing things by hand and sells them on Etsy. Here is her Etsy shop – love, maude.
The right photo shows what I have done with her closet … The shelf organizer came from Target and the bins all hold clothes in the sizes that she will probably need over the next year.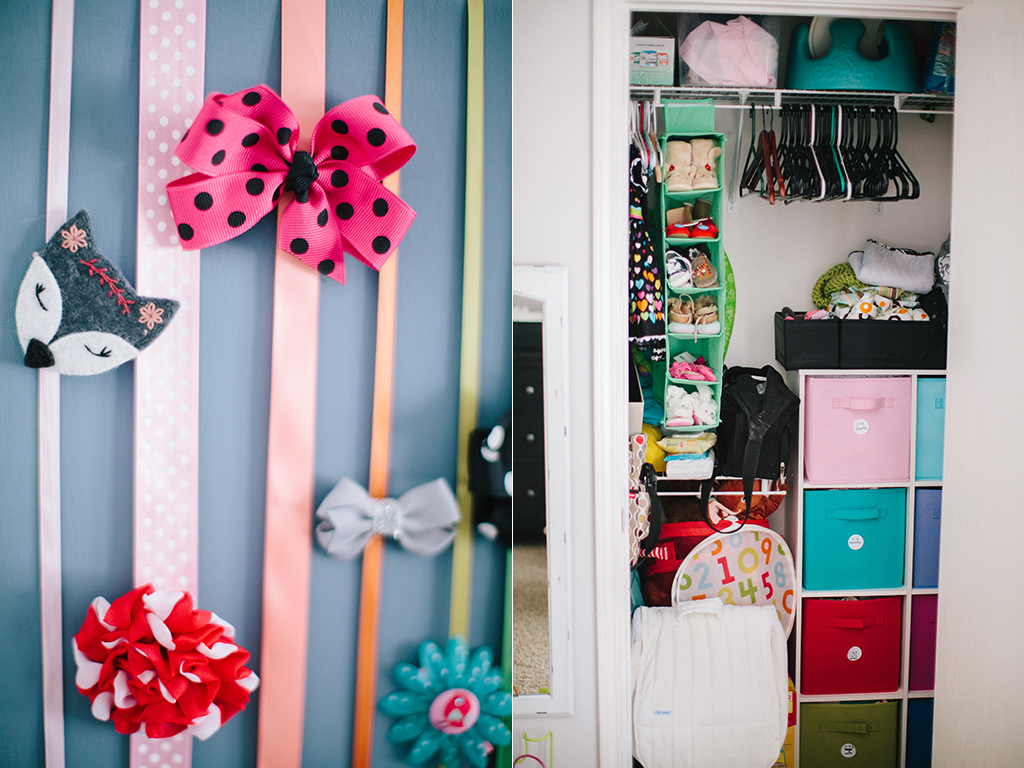 I made a headband holder out of an oatmeal container and an old calendar from Paper Source, one of my favorite stores of all time. The tutorial I used is here.
The photo in the frame is ombre zinnias from Laura & Andy's wedding. I love the colors (and love the flowers) and wanted to share these two loves with Baby Sunshine.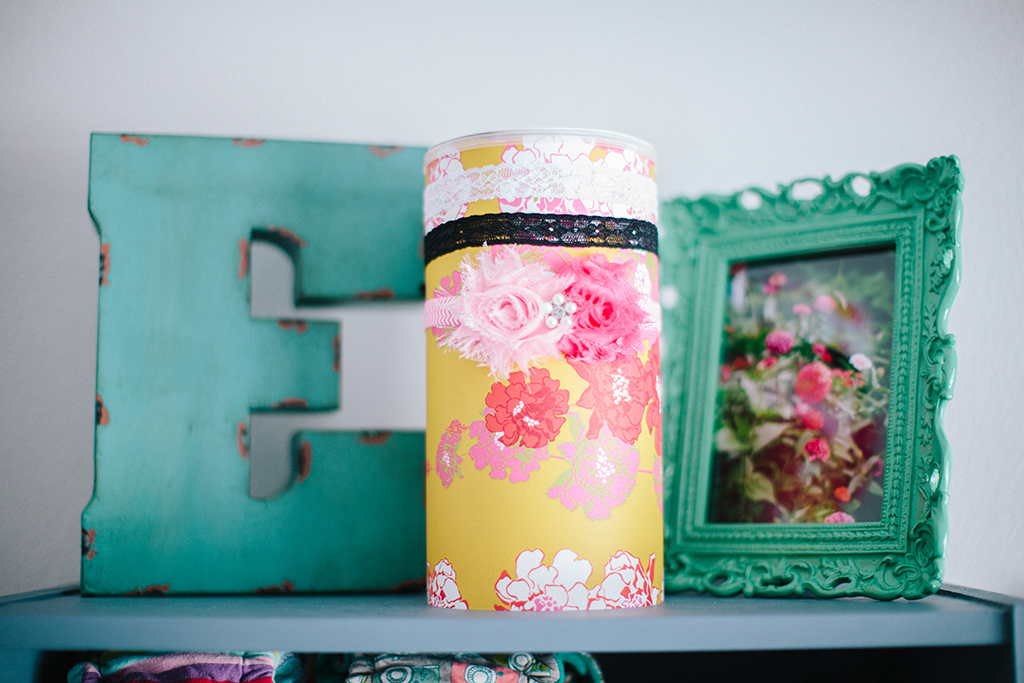 This is my starter cloth diaper stash. I have never used cloth before on any of my kids, so this will be a new adventure for me. I really love how pretty the diapers can be, even though they are (as Andy reminds me frequently) just diapers that will get really dirty. I still think they're cute. I have followed the advice of getting a few of each different type (instead of a ton of one kind) so that we can try different kinds and see what works for us. The diapers shown here are mostly Goodmama fitted diapers. The grey with rainbow stripes on the top left is made by a work-at-home-mom (WAHM) whose shop is called Forward Thinking and I can't wait to try it out. The other kinds randomly here are a Tots Bots Frugi rainbow dot diaper, a BuBuBeBe fitted, a Green Mountain Diapers workhorse, two Grovia All-In-Ones, a BumGenius pocket diaper and a Kissas fitted.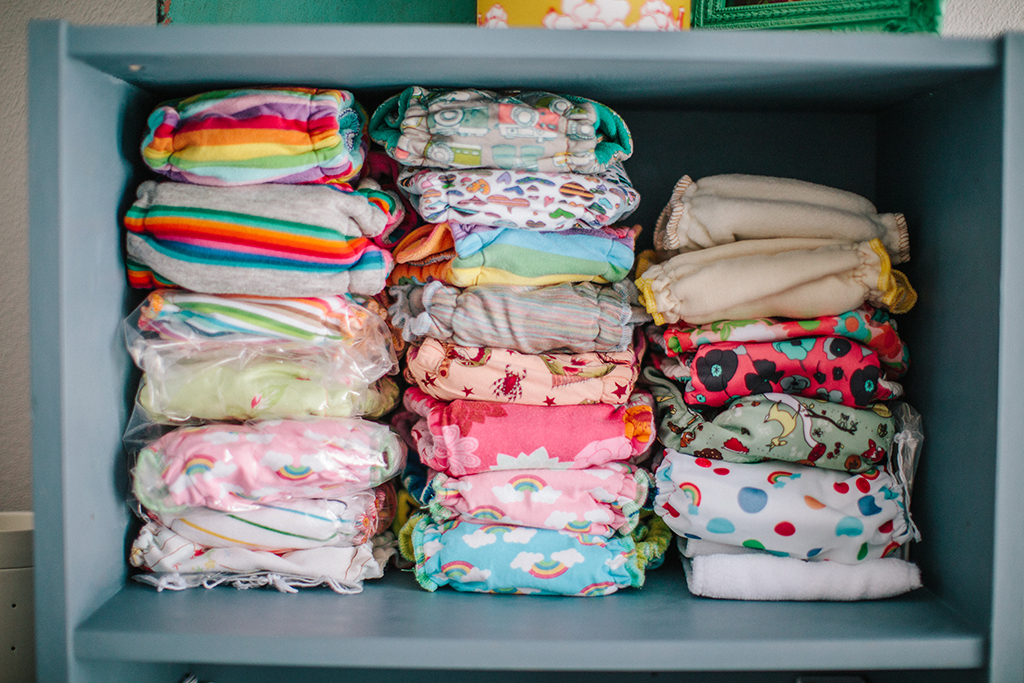 We are also going to try prefolds and covers, as this is the recommended best economical option. I got Green Mountain Diapers Cloth-Eez prefolds to try, and my covers are an assortment of Flips, Thirsties, and Rumparooz.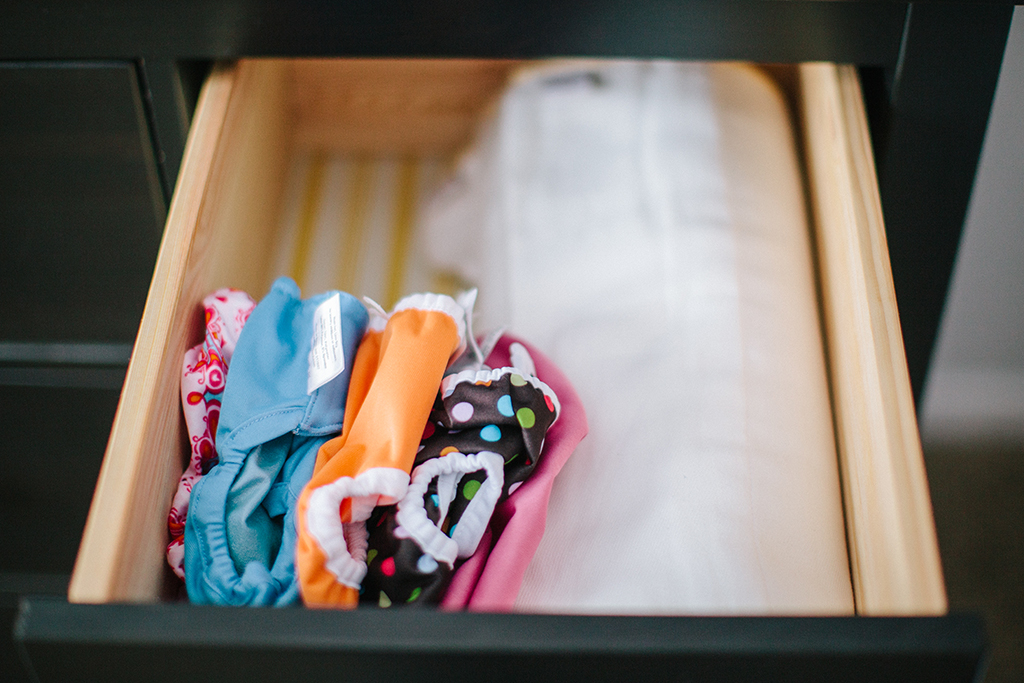 I only bought three "newborn" size Goodmama diapers since I'm expecting her to be a big baby like my boys were, but this is one of my favorites, for obvious reasons. So cute! Now that you all think I'm crazy … moving on …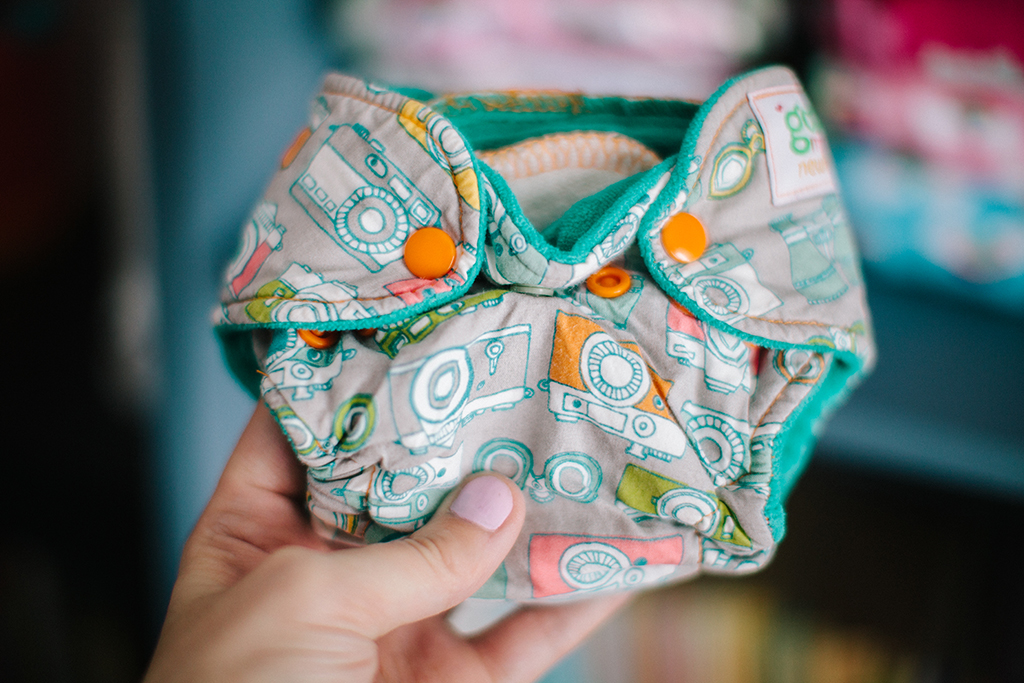 I've always loved the poofy tissue paper poms that you see at parties and in baby rooms, so this was a great time and reason to make some. They were super fast and easy to make, except for the multi-colored one. That took a long time! The tutorials that I used are here (multi-colored) and here (single-colored).
My glider is ten years old, from when I was pregnant with baby Olin, and the covers have truly seen better days. I really wanted to make slip-covers from new fabric to refresh the chair and make it fit better in the room, but this was a project that didn't get completed. My wonderful Aunt Bud is going to work on it for me, which I am so thankful for. The tutorial that I was going to use to make the slipcovers is here, even though I think their finished fabric choice is pretty hideous.
Andy painted the glider with Annie Sloan chalk paint in the "graphite" color with clear wax. I love, love, love all of the things we have painted with the chalk paint. Thanks to my friend Katie Beale for making me aware of this stuff with her amazing furniture projects that she's done. Our local retailer that sells Annie Sloan chalk paint (and tons of other fun stuff) is called Second Betty. They have so many pretty colors of chalk paint … the home projects that could be done with this stuff are endless.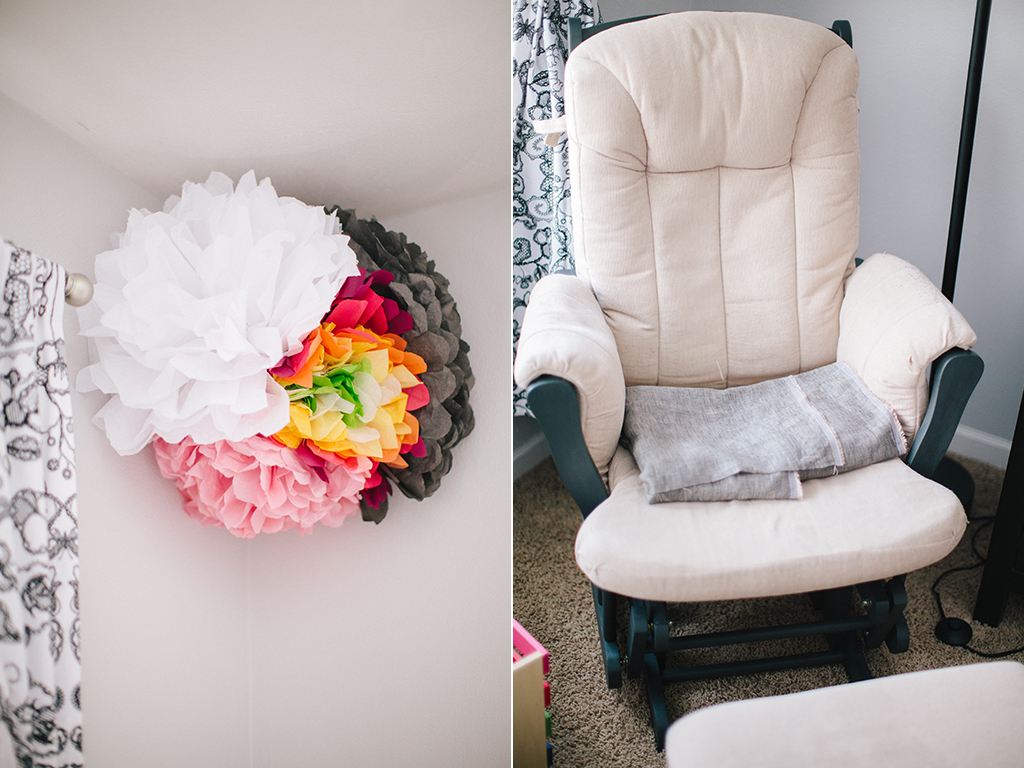 The prints in the frames are by the artist Katie Daisy. Her Etsy shop that sells prints of her paintings is called The Wheatfield. I absolutely love the color and feelings of her work. The first print is a floral sugar skull … which my mom thought was bizarre … but Andy loves sugar skulls so it's very appropriate for us. I thought the butterflies were just simply pretty, and I love the pink farmhouse that is bursting with flowers. It reminds me of vintage childrens' books and simple days in the summer sun.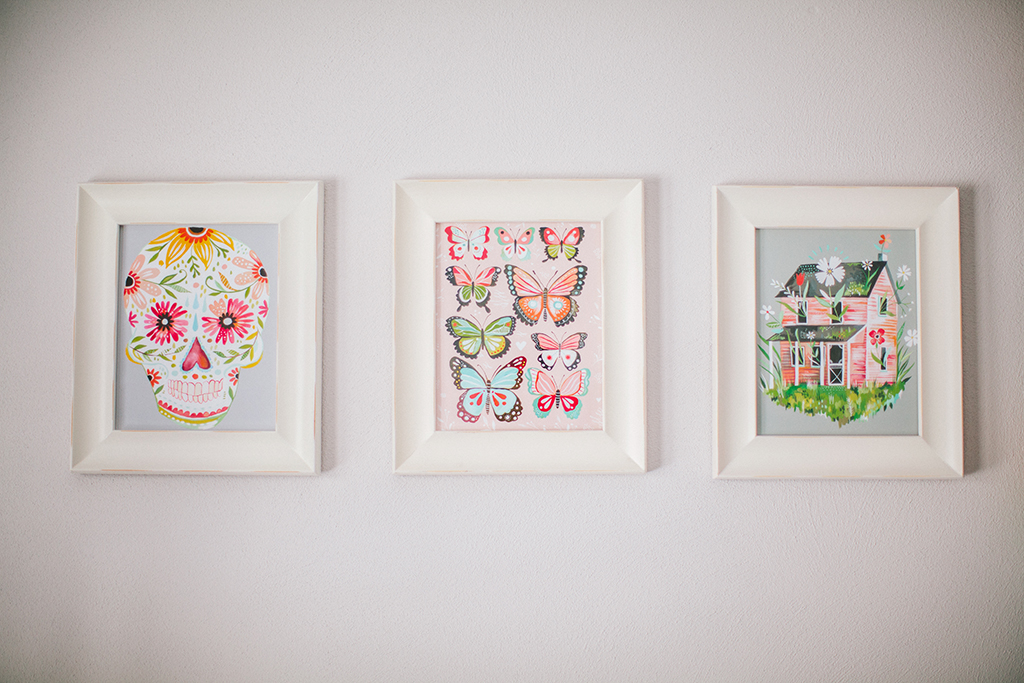 These shelves hold some of my favorite toys and other random things. The red furby is from my high school best friend Breanne. The vintage pink Fisher Price dragon on the other side is from my other high school best friend Jay. I love that I can bring elements of them and my history into this room too. The red owl was stuffed and sewn together as a gift to me from my dear Andy. The Care Bears are all vintage from my childhood, and I thought they fit perfectly with the rainbow/colorful theme in her room.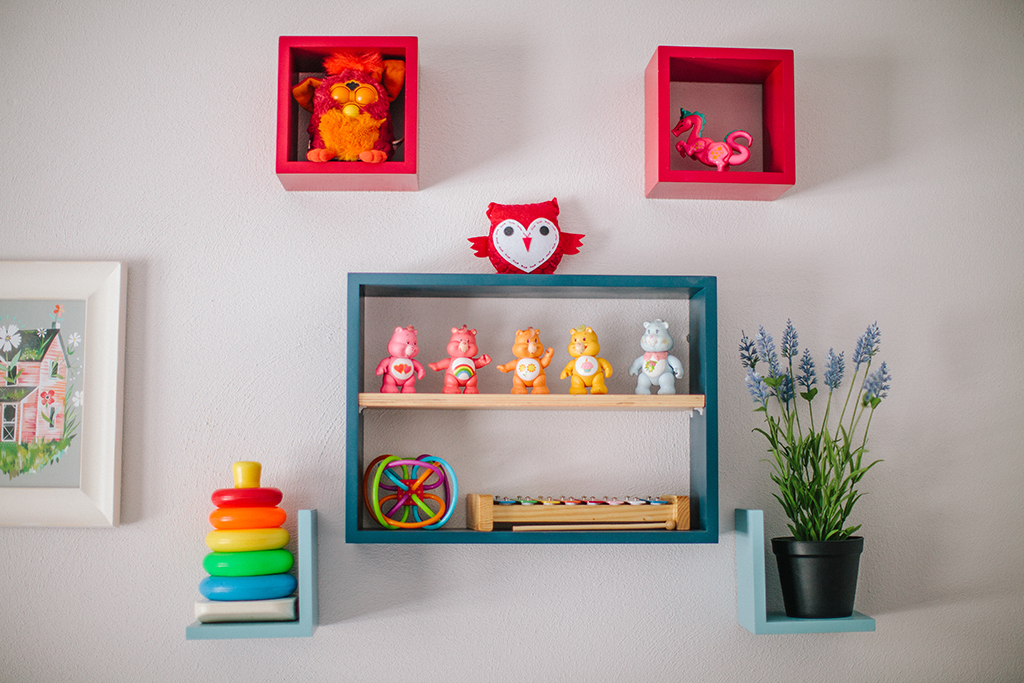 This quilt … I don't even know what to say about how special this is to me. My aunt Bud made this for me and gave it to me recently, and I love it so much. She made this from quilts that belonged to my grandma and her sister Vivian who recently passed away. Such a special gift.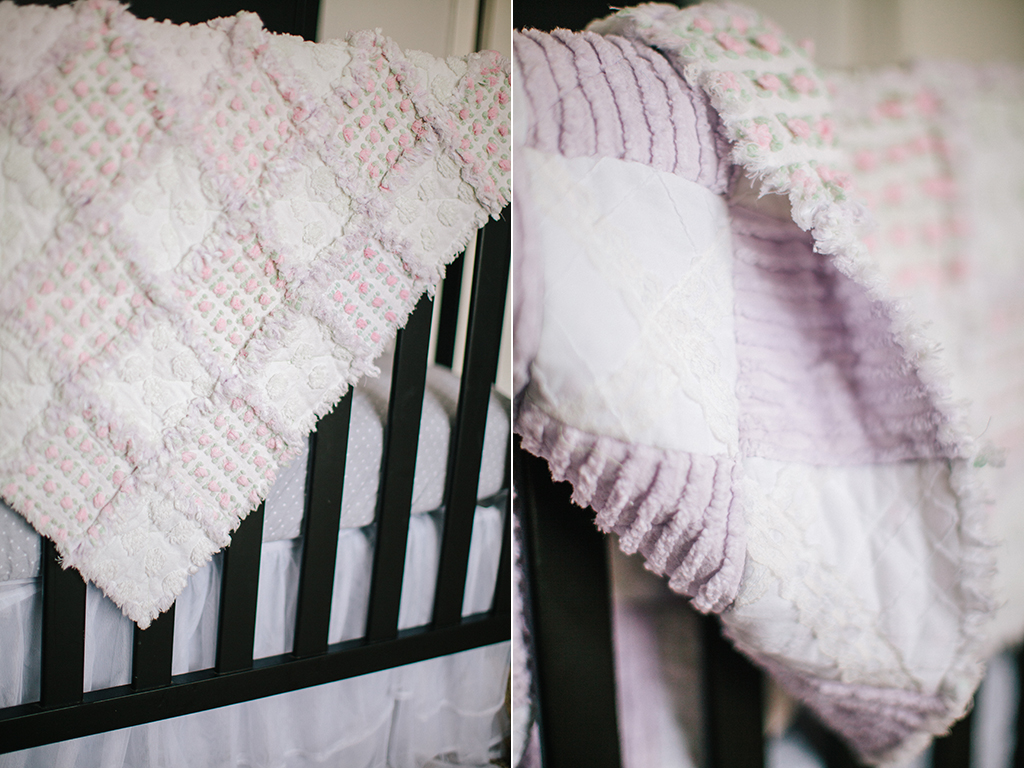 Last of all, I knew I needed a Baby Jives rainbow drop cloud mobile. Baby Jives is a small company run by a work at home mom, and I was happy to help support her and buy something super cute for Baby Sunshine. She makes a lot of different mobiles that are available on her site, babyjives.com.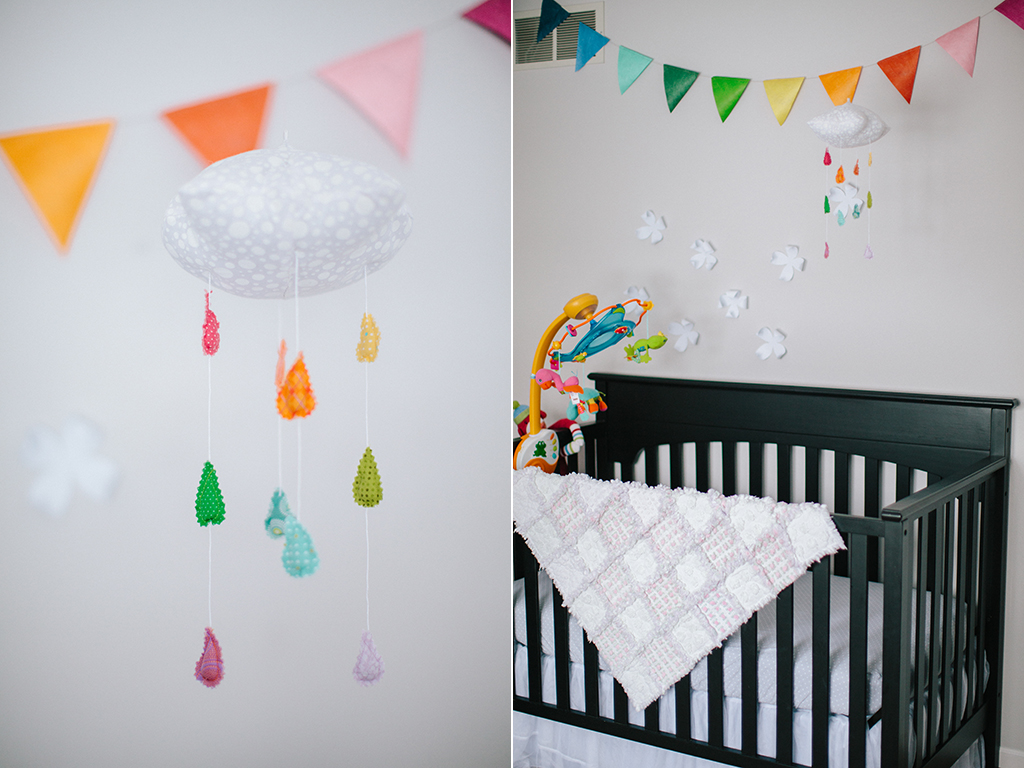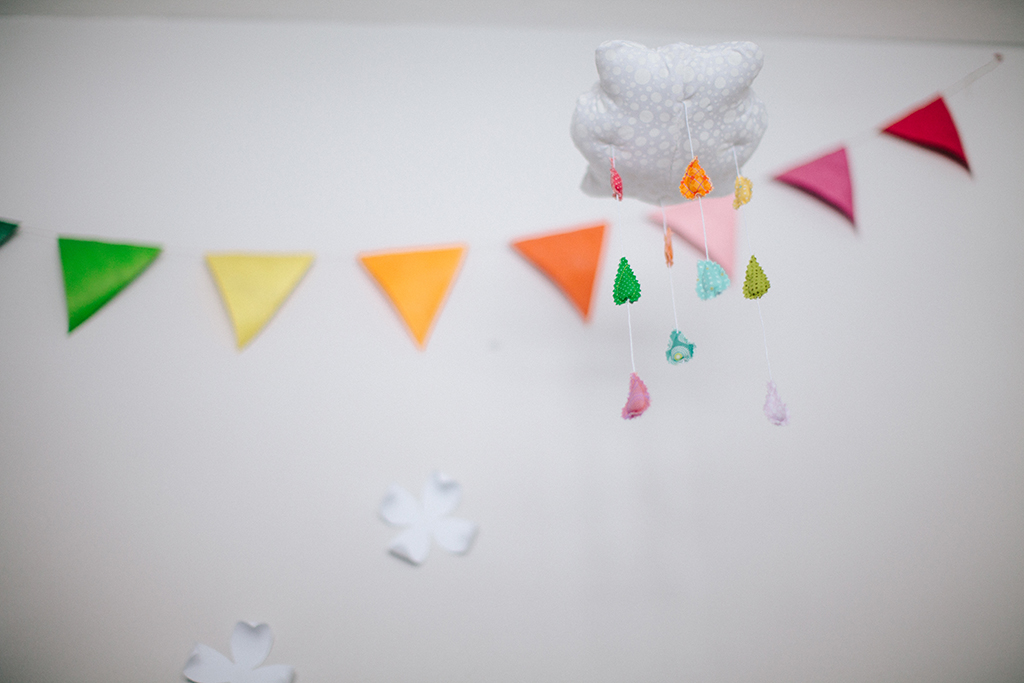 So, that's the room for now! I'm very happy with how it turned out, and I cannot wait to rock and play and sing to my baby girl here.